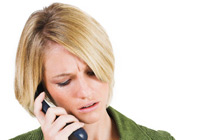 FAQs
Click on a subject heading below to view questions and answers relating to your selection.
I already have an answering service. Why would I use yours?

In addition to being an answering service, our system is proven to eliminate most non-emergency or nuisance after hours calls because your clients are being charged to speak with your veterinarians; you earn revenue from each call you take; our system was created and designed by a veterinarian; our call center operators will screen your after hour calls based on your criteria; and lastly there are no monthly answering service fees with After Hours Assurance. We earn our money by retaining a minority portion of the call fees collected from your clients.

I am a shareholder of my local emergency hospital. Would this service allow me to continue to refer my clients' after hours emergencies there?

Yes, you would still refer cases to your local emergency hospital, when the on call veterinarian determines that your client's pet requires immediate medical attention. However, you would not refer your client to the emergency hospital if you determine that the patient does not require immediate medical attention and can either wait to be seen the next day in your clinic, or if the pet does not require any medical treatment. Conversely, if you do currently provide after hours examinations, then you could continue to provide after hours treatment, when necessary.

Would your call center agents provide medical advice to my clients or would I have to be on call?

Our call center operators do not provide any medical advice. A veterinarian from your clinic will need to be on call and responsible for providing all medical advice to your clients.

Why would I introduce After Hours Assurance if I am already providing free after hours emergency advice to my clients?

If you currently take after hours emergency calls, you probably are talking to many clients (and some non-clients) at all hours of the night who clearly do not have true emergencies. With After Hours Assurance, not only will you earn additional revenue from taking these calls, but thanks to our screening process, you will also see a reduction in the volume of after hours calls that you receive. You will have the option to benefit from our answering service at no cost to you. You will also have control over the screening process—you can customize the voice prompts your callers will hear and the questions the call agents will ask.

I've been offering after hours advice for free. Won't my clients be upset and not willing to start paying for it now?

With our participating clinics who previously offered after hours advice for free, there has been very minimal negative client feedback. Most pet owners (especially your top clients) realize that your time is valuable and are willing to pay for this valuable service. Furthermore, your clients will not be required to pay for an After Hours Assurance call plan, they will still have the option of going to a 24-hour hospital. We would be happy to provide references from our clients who previously offered their after hours advice for free.

Will my clients pay for After Hours Assurance?

Yes, our results have proven that pet owners are willing to pay for after hours advice from their primary care veterinarians, who know their pet best. Even clients accustomed to receiving free after hours advice from your clinic will pay for this valued service. Pet owners recognize its many benefits, such as: the peace of mind associated with receiving trusted advice; the possibility of avoiding a trip to the emergency hospital thus saving the drive, inconvenience, long wait, stress (on both the pet owner and sick pet), and expense of an unnecessary trip to the emergency animal hospital to see an unfamiliar doctor; the possibility of keeping their pet at home, safe and relaxed, and able to bring them into your clinic the next business day; and lastly advice even when traveling - when they inform our call operators that they are ouf of town, we will provide you with local emergency animal hospital information, should you need to refer them for immediate medical care.

How are the prices set for the After Hours Assurance service for my clients?

Because you know your clients best, YOU set the prices. Most After Hours Assurance pricing plan options for clients include a 'Pay Per Call' plan (you can set different prices for calls before midnight, after midnight, and on major holidays) and a 'Gold' plan (unlimited calls for one year). We can help you set these prices if need be.

Would I have to meet the patient in my clinic if their emergency warrants an exam?

Absolutely not. Most After Hours Assurance veterinarians continue to handle after hours emergencies the same way they had been. If you currently refer your clients to the 24 hour emergency hospital for their after hours emergencies, you can continue to do that. However, now your clients would have the peace of mind of talking with you before they would go to the emergency hospital, and the emergency hospital would have fewer non-emergency cases being sent to them. On the other hand, if you currently provide after hours emergency treatment to your patients, you can choose to continue to do that.

What if I am interested in the concept, but do not want to take calls after hours?

After Hours Assurance does require that a veterinarian from your clinic be available to provide emergency advice after hours. If you are not willing to make this commitment, you might consider talking with your Associates to find out if they would be interested in taking emergency calls in exchange for compensation for providing this valuable service. As the clinic owner, you may choose to share the After Hours Assurance revenues with your Associates who are handling the after hours calls. Regardless, you will get paid monthly all of the revenues you have earned, and you can decide how you would like to distribute any earnings to staff or Associates. Also, most of our clients who have been on call in the past, can't believe how few calls come through to them as a result of our screening process.

What if my Associates do not want to participate in taking call after hours, and I am the only doctor available to do so from my clinic but I may not be available to take call every night?

You would still be able to offer your clients After Hours Assurance. If you are uncomfortable committing to be available at all times when your clinic is closed, you may decide to only offer the pay per call plan to your clients. If they call your clinic after hours for an emergency and you are not available to take call, your voice mail message can instruct the caller to contact the local emergency clinic in your area.

What is included in the set-up fee to get started with On Call Solutions?

Set-up fees offset the costs of creating your customized marketing materials (posters, brochures, wallet-sized reference cards to hand to your clients). You also benefit from the customized letters we send out to your clients to introduce your new After Hours Assurance program.
These costs/set-up fees may vary depending on the quantities of marketing materials you choose. An On Call Solutions representative will review your options with you and provide a specific break-down of the cost per materials ordered.
Lastly, included in your set-up fees are your answering system recordings, website settings, customized scripts for our operators handling your calls, as well as client database importing.

How much revenue can I expect to earn?

We have found that revenue results can vary based on a few key factors. The most important factor is the consistency with which a clinic is able to communicate and educate their clients about the service—the more clients who are aware of the service, the greater use of the service and thus the greater revenue.

Another factor that seems to affect results is whether your clinic currently offers after hours advice. Those clinics who currently offer after hours advice can expect a quicker adoption to using the service because their clients are already accustomed to being able to call their primary clinic after hours. Whereas pet owners whose clinic is not currently available for after hours advice, will have to remember that they now have this great new option to speak with a veterinarian from their clinic after hours to get advice about their pet's medical concern.

The size of the practice is the third most relevant factor in affecting revenue. Obviously, the larger the client base, the more revenues you can expect to generate.

Since clinic sizes can vary greatly, we track revenues on a per doctor basis. We have found revenue in the first month to be as high as $700 per doctor for the clinic share of the call fees and as high as $1,000 per doctor in incremental office visit revenue from pet owners who came in for an office visit during regular business hours after having been saved an unnecessary trip to the 24-hour emergency clinic.


Why do my clients need to provide their email addresses?

In order to keep our costs to you as low as possible, we use email to contact your After Hours Assurance registered clients. If they do not provide their email addresses, they will not be eligible to receive reminders about their account (ie, if their registration is about to expire) or email-only discounts. They will also not be able to login to the After Hours Assurance website to update their personal or pet information or view their call history.

Will you keep my clients' information private?

Yes. We place a high degree of importance on keeping your clients' information private. We will not sell your clients' personal contact information or credit card information to any third party.

Will I be able to listen to actual calls to hear first-hand how my clients are being treated by the After Hours Assurance call representatives?

Yes. Simply contact your After Hours Assurance representative and they will walk you through the process of listening to recorded calls from your clients.

What if a client wants to pay with cash or check? Can they still register for my After Hours Assurance program?

Yes. By pre-registering for your After Hours Assurance service in your clinic, your client can pay with cash, check, or credit card. They may also choose to mail in a registration form found in your brochure, along with their check payment. Registering online and through Customer Service require that your client uses a valid credit or debit card.

Can I test this service out for a few months and then decide if I want to commit to using it in my clinic?

The system is not designed for short-term results. We expect a minimum of a three year commitment to allow enough time for you and your clients to benefit from the service. We do not believe it would be appropriate or professional to introduce a valuable new service like this to your clients, only to discontinue it after only a short duration. If for some reason, you did need to discontinue the service prior to the end of the three year term, we would just ask that you either continue to provide the service until all of your registered clients' service expires, or that you refund a pro-rated amount of their unused registration fees.

I own a mixed practice, providing both small animal and equine services. I am available 24/7 for my equine patients, but not ALL small animal patients for after hour emergencies. How would After Hours Assurance work in my clinic?

You can choose to process all after hour calls (small and large animal) in the same way or, if you prefer, we can cater a solution to allow you to handle large animal calls differently than small animal. One of our mixed practice clients has chosen to setup their After Hours Assurance program to handle all after hour client calls the same way. However, since we know that each practice is different, we are happy to work with you to customize the solution in a way that makes the most sense for your clinic.

I'm interested. What's next?

Call to schedule a meeting or phone conference with an On Call Solutions representative. They can answer all of your questions, and review your options for customizing your clinic's very own After Hours Assurance program. In as little as two weeks, you could start benefiting from this proven system.